Flight tickets are often a major chunk of the total travel cost. So we are always interested to save the most on our tickets to be able to spend more during our journey or even spend more time at our destination. Each of us, books around 30 flights a year and we noticed a couple of things, which helped us flying somewhere for less the 20,00 € return. So let's get started and get you travelling.
1. Flexibility is crucial
When?
Take in consideration, that the time of the year, the weekday and upcoming holidays are heavily affecting the price for a flight ticket. In general flights during the week, are cheaper than flying on a weekend. You can also save some money if you choose early morning flights or evening flights. Most people want to fly during the day, preferably on the weekend. So airlines use the increased the demand and rise their prices. Try to fly, when nobody else want to fly!
Where to?
If you cannot be flexible regarding the date of your departure and return, be possibly flexible where you fly to. You will save the most, if you are flexible regarding when and where. If you use skyscanner, select a departure airport and click on map.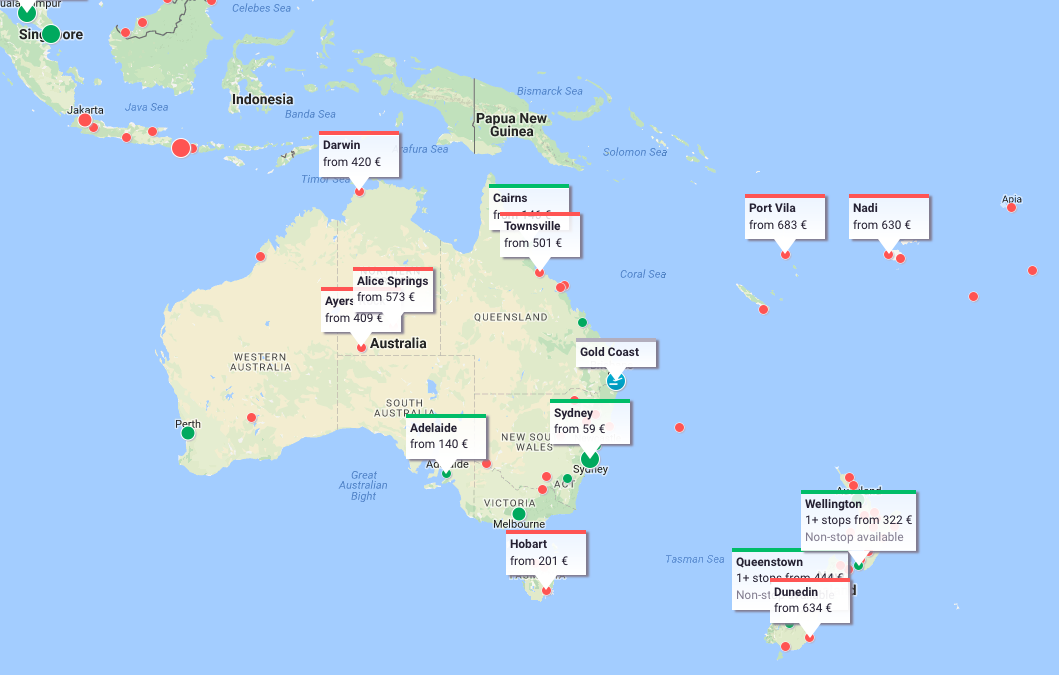 From where?
The departure airport may have also a major impact on the ticket price. In Germany for example, many major airports like Munich , are not served  by low cost carriers like Ryanair or Wizzair and other airports have only very few destinations. So have a look on the map and try to check out all surrounding airport. Personally, I set my self a limit on 2 hours travel time to get to an airport. (Sometimes less, depending on the total time of travelling) But be aware and consider the additional travel costs which may occur to get to the airport.
How? Direct or stopover?
If you are flexible regarding the route you are traveling to your destination you may also be able to save a couple of Dollars. You can also set up yourself a route to your desired destination. For example, we booked flights to Cambodia. Instead of looking for direct flights, we looked for flights to Bangkok and booked another flight with Air Asia to Cambodia. Thereby we saved around 250 Euros each and we get to visit another incredible city.
2. Fly low cost carriers.
Low cost air carriers are experiencing a sharp increase of demand. Now they also started operating on long haul flights. Companies like Norwegian Airlines and Eurowings started to fly from Europe to Bangkok for less than 250 € each way. In America unfortunately, there are not as many budget airlines as in Europe or Asia. Besides looking for flights on major search engine sites like skyscanner, kayak or momondo for example, always check the webpages Ryanair and Easyjet in Europe or Air Asia, Tiger, Air Arabia, flydubai and Jetstar in Asia. In the US check out Spirit, Southwest and JetBlue.
Before you book you should know, that often no checked baggage is included and sometimes harsh fees may apply while going through the booking process. Also you should always do online check-in if its recommended by the airlines and obey the strict baggage regulations.
3. Where to look for a flight
Try to look at many different search engine pages. We recommend doing this, because every booking site has blind spots and may not cover low cost carriers or certain regions of the world. Also try to check out the website of the airlines directly. Sometimes I found cheaper fares through the operator of the flights then on a booking site. Some booking sites offer cheap tickets. However, some of them charge massive payment fees for paying by credit card.
4. When should you book?
The best fare are usually available about 10 to 7 weeks before the flight. However, if you are traveling during peak season, book the flight at least three months in advance. Many bloggers write about on what days you should book, e.g. "Wednesday is the best day to book. Well, personally I have never made such an experience. The algorithm of search engines may be influenced by the weekday of the booking, but I guess they are way more complex than that. So do not believe every myth.
5. Finally
In conclusion it can said, that flexibility pays out in the end. Be smart and flexible but never waste too much time on booking a flight. Be decisive and don't spend more than one hour. Also set yourself a maximum price, and if it is surpassed, consider looking for another destination. There are plenty of places around to world, just waiting to be explored by you.
6. Useful links
Skyscanner Flight Search Engine
ryanair.com (European Low Cost Carrier)
easyjet.com (European Low Cost Carrier)
airasia.com (Asian Low Cost Carrier)
jetstar.com (Asian, Australian and New Zealand Low Cost Carrier)
spiritairlines.com (US Low Cost Carrier)
If you have any question, please feel free and ask.